How to speak English confidently?
October 23, 2020

Posted by:

elanwp

Category:

English Blogs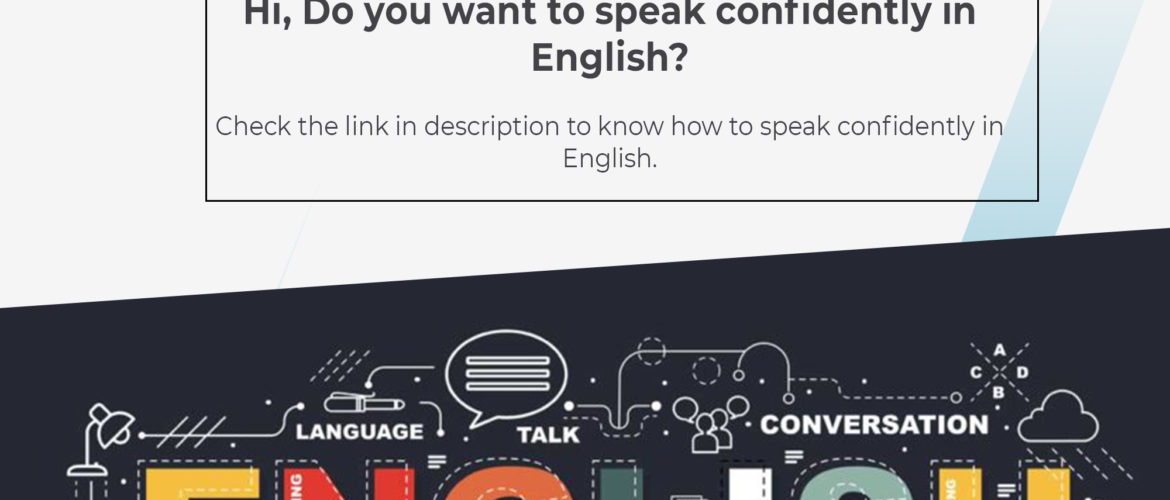 How to speak English confidently?
Do you ever watch your favorite stand-up comedy or a TED talk and wonder how are they so confident? Public speaking isn't just about 'confidence' it's about a personal connection. This connection where you have the urge to share your experiences. Doesn't always need to be a speech where you're a hero but just maybe something to make people laugh. It's the charisma. It's your charm. Your connection with your audience. This course is to ensure that your fear isn't about standing up on a stage, it is that you haven't given yourself the opportunity to empower others. The lessons and tips that will be learnt in the course of this program is not just for when you're up on a stand, its lessons that will follow and carry out into you as an individual.
Why public speaking? Benefits and opportunities
When involving yourself into the course of 'public speaking' you are putting yourself on the pedestal. You're sharing your voice, your opinion to the world. This course guides you through the steps of achieving your dream of possibly voicing your opinions out rather than just watching others and wondering if you were capable of it. Test yourself. Elan Academy. The 'Public Speaking' course is your leap of faith. We'll be there with you right from the top all the way to catch you at the bottom. Because without your jump there are many lined up to follow your steps. So, are you willing to jump?
Here are few tips which will ensure that speaking in front of an audience will be as easy as possible;
Keep an open mind
When you are listening to 2 people conversing in English to understand it not just as words and the meaning supporting the sentence. Rather think in English. Try and grasp in a manner where you will be able to respond without having to think twice about what was said.
Keep a mindset as 'I can'. Don't focus on the negative side. Keep pushing yourself even when someone might try to tear you down.
Don't ever take criticism to the heart. Keep a wall right up. Having people give you sugar coated versions of their opinion will only make you feel comfortable. Don't take opinions from your family and friends. Record it and send it to someone you know who will give you a blunt answer.
Always say yes. If you have the chance to practice your English in any form try it out. Maybe you'll learn something that you have never learnt before.
Never get comfortable. When you hear someone say that your work was good, don't just sit back and be satisfied. Keep working and keep progressing because that is the only way that you will be able to keep in touch with the time and generation that is around you today.
Always remember to practice
Speak to someone on a daily basis. Whether it's through a skype call, zoom call or any forum in that matter. You could even take in some online classes to ensure that you have constant communication and you're able to receive honest feedback.
Join conversation classes. These classes will help your collaboration skills and will give you a better idea of how the people around you think.
Watch movies, TV shows. You could even listen to songs. Having a constant source of listening practice, it will allow us to understand when conversing with someone else. It will also help you create interest and passion for the language
One of the most commonly used is traveling. When you travel you are bound to communicate with the locals and the people around you. This will give you the benefit of the doubt to work with the real world and understand the way people communicate and understanding one another.
Read out loud
Reading out loud will help you to understand the fluency of the language. You could pick up a magazine, a short story or anything just so that you have your tongue rolling and you are getting comfortable with the language. To ensure that you are speaking confidently, posture and attitude isn't enough. Having the right kind of fluency will make the audience and listeners understand you and be intrigued with what you are saying.
Relax
Remember to always take it slow. If you rush into what you're trying to say you will always run into the conflict of not making sense. Give yourself the time and space to think about what you're going to say next. It's not about how much you speak or for how long, it's rather about what you speak. Remember to always have quality over quantity. Take a deep breath and reduce the pressure you are feeling on your shoulders.