Tips to ace the exam ielts
October 29, 2021

Posted by:

elanwp

Category:

English Blogs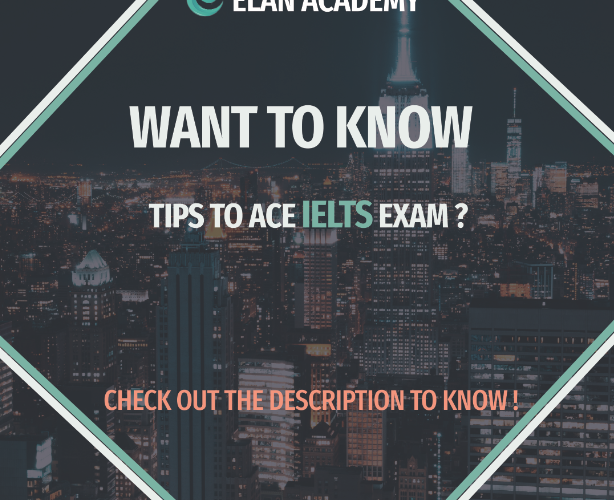 What is IELTS?
International English Language Testing System, or IELTS, is a test of English language proficiency for non-native English speakers. It was established in 1989 by the British Council, IDP: IELTS Australia, and Cambridge Assessment English.
It's very likely that you are getting ready to take an IELTS test if you plan to migrate to an English-speaking country or if you hope to study abroad. English proficiency is assessed by the International English Language Testing System (IELTS). The course is designed to prepare you for real-life situations – such as a university, at work, and in social situations.
You are assessed on four key components of a language: speaking, writing, reading, and listening. Preparation usually involves sitting and reading for many hours.
It is imperative to enter your IELTS exam after adequate preparation in order to achieve success. Learn some tips and strategies on how to ace the IELTS by preparing for your IELTS!
One can only become perfect with practice
It won't be enough to pass the test based on your knowledge of English alone. Get familiar with the format and the different types of questions on the test papers so that you know what to expect. Practice as many questions as you can for each part of the test. This will help you determine how much time you spend on each section. If you're taking a pen and paper test, practice will help you recognize how long 150 and 250 words look (you won't have time to count them during the Writing test), and if your answer is too long or too short, you could lose marks. On the British Council's official website, among others, you can find a lot of test practices.
Mock exams should be conducted under exam conditions
It's a good idea to take your time when preparing for the IELTS exam. It is essential to practice slowly and steadily at the beginning. However, once test-takers improve, it's important that they condition themselves to take the test under assumed conditions. Each section of the test is timed, so the speed is important. Once students become comfortable with doing test questions in their own time, they can start timing themselves.
It's all about timing
Are you aware that the listening test lasts 40 minutes, and you have only ten minutes to write your answers down? Make sure you practice test answers under the same timed conditions every time. By doing this, you will be able to manage your exam time more effectively, and you will be able to identify your strengths and weaknesses. This will help you identify where you need to spend more time practicing. If you are having difficulty completing the writing test within 60 minutes, you should schedule more practice time for yourself.
Familiarise Yourself with the Test Format
Understanding the test format not only helps you understand how to prepare but also calms any nerves you may have.
As the test has four sections, you will need to be familiar with a variety of aspects. Understanding the different types of questions and tasks that are required by strategizing beforehand, you will be able to allocate your time efficiently and focus on your areas of weakness.
Plan for success
There are several useful strategies you can apply to different questions and tests. Try out all of these strategies to find the one that works best for you. For example, in the Listening test, read the question first so you can listen for the specific information you want. Decide if you are listening for a name, a number, an adjective, etc. Concentration is required, but it will pay off when you are able to identify answers quickly and with precision. If you want to save time during the Reading test, don't read the whole text first. Get an idea of the content by looking at the title, subheadings, and pictures, then jump straight to the questions. After reading the questions, you can then scan the text for the answers you need. If you want to learn about these strategies, you should take an IELTS preparation course, such as IELTS Coach, an online course taught by British Council teachers.
Understanding What to Expect
Knowing what to expect on test day is one of the best ways to be prepared! For those who opt for computer-delivered IELTS, the familiarisation test is a valuable support tool. Furthermore, it's free and you can do it from the comfort of your own home!
Make sure to watch more TV
This is an instance when watching TV is beneficial to your health! It is not just helpful for preparing for the listening test to watch English films and TV shows or to listen to English radio or podcasts. It is also helpful for preparing for the Speaking test. In addition to hearing good models of pronunciation, you will learn useful phrases that will help you feel more confident on the day. Practice being more fluent by pausing and copying what people are saying. As you prepare for the Speaking test, keep in mind that you'll be speaking about yourself, your ideas, and your opinions in each part. Practice sharing your ideas on different topics as much as you can.