How to increase followers on twitter in 10 days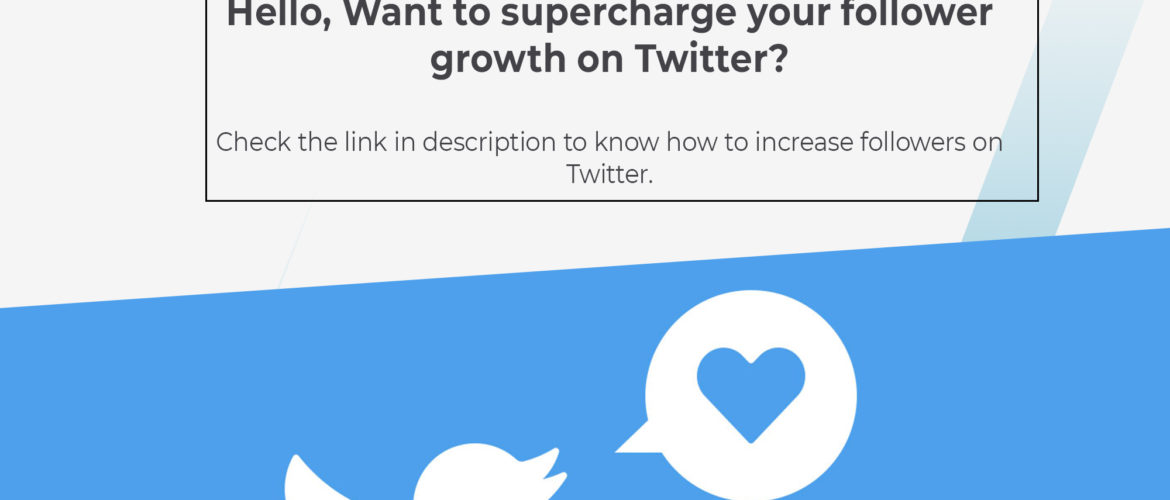 Twitter has been a social platform for several years. It's a space where people can communicate with one another and share their daily experience or even their mood. Many people choose to post short messages for their followers. Many celebrities choose to explore and showcase their thoughts and views on twitter because of the range of media outlets and followers that are present.
Why is twitter so popular?
Twitter is known as one of the most user-friendly social platforms. It has brought several connections between friends and families all around the world. Twitter has been able to concise their word limits so that people aren't reading lengthy posts rather those which are short and crisp. Each tweet is limited to 280 words. This allows the tweeter to be using more clever and significant language which will make the readers much more engrossed. This method of size restriction has become widely popular.
How does twitter work?
While also being user friendly this platform can also be used for projecting broadcasts. You can easily login and rather than tweets you update your broadcasts, which can be either daily, hourly, or as constant as you would want. This also provides your followers with content and an interest in your future tweets. You can also view other people's tweets. Whether they are celebrities or the people around you. Twitter also gives you the option of following their account so that you can keep up with the regular tweets. But don't worry, there is also an option to unfollow.
Why do people tweet?
Many individuals are active on twitter and here's why; some use this platform to advertise various products or their firm. Many use it for self-promotion, attention, or just for fun. Many celebrities post their statuses and even movie promotions on them. People who are in the field of media and so on also take this opportunity such as, entrepreneurs, bloggers, journalists and so on. This has also built and expanded the lives of many. It has allowed them to reach and connect with the outside world without much effort. But something that one should be careful of its content. Not all of it is true. It can be misleading information.
Can twitter be a marketing tool?
There are several individuals who prefer publishing about their firm or product through twitter. For instance firms such as, recruiting services, consulting business, e-commerce and so on. These firms have gotten more public attention after publishing it on twitter. When living in this modern world people prefer to hear about new products and business through social platforms rather than the TV. Which is why many businesses prefer Facebook, twitter, Instagram and so on. This way the public can easily go through the products and identify whether they are interested or not. That special awareness is exactly what twitter provides. When you begin understanding and getting used to the various clicks and steps you can become a master.
Twitter as a messaging tool?
Twitter is considered as one of the social media platforms which is why instant messaging is part of the program. Like most they also allow you to find people from all around the world. This builds a base with the people with the same passion and interest. You can also connect with people who have the same job description and possibly the same knowledge.
Why do celebrities like twitter?
Twitter has never stopped becoming one of the most used social media platforms. It has created personal connections for celebrities with their fans. Celebrities such as Amitabh Bachan, Ellen DeGeneres, Katy Perry and many more are actively present in social media. Their constant and daily updates have kept their fans in check as well as the personal connection. It has been a powerful method of advertising and compelling to followers.
Twitter tips for beginners;
Understand your followers.
Retweet!!
Use hashtags
Check when your followers are most active that way you can post during those times
Now these are just a few. There is so much more!!!
To keep that followers coming in, here are a few tips;
Content is the most important matter.
Build your profile. More is better.
Tweet and Retweet.
Get your followers addicted
Hashtags
Branding
Use the right kind of tools
Tweet when your fans are most active.
To learn more about Digital Marketing visit the link below>>
https://elantechlab.com/courses/digital-marketing/
Don't give up. Keep it going.