History of development of Indian Railway
February 12, 2021

Posted by:

elanwp

Category:

Govt Job Blogs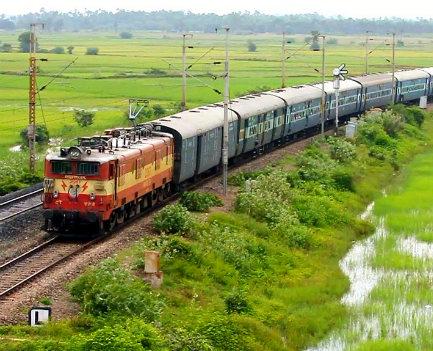 HISTORY OF DEVELOPMENT OF INDIAN RAILWAY
The history of Indian Railways dates back to over 160 years ago. On 16th April 1853, the first passenger train ran between Bori Bunder (Bombay) and Thane, a distance of 34 km. It was operated by three locomotives, named Sahib, Sultan and Sindh, and had thirteen carriages. The photo to the right, while capturing a scene from the early days of railways in India, features a train pulled by a single locomotive, and is widely – but incorrectly – believed to be that first service.Just a couple of years after that first train, the engineers of the Indian Railway took up the colossal task of building a track over Bhore Ghat. Built at an elevation of 2000 feet, to connect Bombay with Poona, with tunnels and reverse viaducts, the track was finally constructed over a period of nine years and at great human cost.
The first Railway Workshop was established at Jamalpur, near Munger, Bihar, in 1862. It gradually became one of the major industrial unit of India, with iron and steel foundries, rolling mills and more. In 1864, the north got its first station – the Delhi Junction. The oldest one of the city, it was a major station and junction and remains so till date. It was first established near Chandni Chowk in 1864 when trains from Howrah/Calcutta started operating up to Delhi. The current building was made operational in 1903.
The next important station in the north was Lucknow. It was the headquarters of the Oudh and Rohilkhand Railway (O&RR) whose first line from Lucknow to Kanpur was built in April 1867. In 1880, The Darjeeling Steam Tramway (later the Darjeeling Himalayan Railway) started its first section between Siliguri and Kurseong. The line was extended to Darjeeling in 1881. The Line operated on Narrow Gauge, and was accorded World Heritage Status in 1999, the first Railway in Asia to get such a standing.
Kalka Shimla Railway (KSR) joins Kalka, the foothill town near Chandigarh to Shimla at an elevation of 2276 metres. This Narrow Gauge Railway (2 feet 6 inches) of 96.54 km (59.99 mi) length opened for traffic on 9 November 1903. It was accorded World Heritage Status in 200. The Nilgiri Mountain Railway is among the first, and still outstanding, examples of a Hill Passenger Railway. Opened in 1899, it was extended upto Ooty in 1903. It was a bold and ingenious engineering initiative to establish a rail link across a mountainous terrain of great beauty. The "engineering marvel" still stands, a testimony to the skills of Railway Engineering. It was accorded World Heritage Status in 2005
Pamban Bridge is the railway bridge which connects Rameswaram on Pamban Island to mainland India. Opened on 24 February 1914, it was India's first sea bridge. The rail bridge is, for the most part, a conventional bridge resting on concrete piers, but has a double-leaf bascule section midway, which can be raised to let ships and barges pass through. National Rail Museum, the first rail museum in India, was established in 1977 at Chanakyapuri, New Delhi. The Indian Railways now have 33 Museums, Heritage Parks and Galleries spread all across the country. After four decades of importing ready-made British locomotive parts for assembly, in 1895 the first steam locomotive was manufactured completely in India at the Ajmer Workshop. The locomotive, F-734, became part of the Rajputana Malwa Railways and served both passenger and goods trains along Central India.
The National Rail Museum in New Delhi has one of the most comprehensive collections on the history of Indian Railways. From century-old locomotives, to models and informative panels and games, it's perfect for anyone looking to become acquainted India's railway history.
In the last 160 years of its existence, the Railways in India has grown and expanded by leaps and bounds, yet there are still unchartered territories to cover. Slowly but steadily the railways is connecting every part of India, which with the constant innovations in technology is much easier to do today than it was before. Though the newer generation is more used to its air travel and automobiles, it is imperative that the railways continue to grow; because even with all the other options available, the experience of an Indian train ride will remain unparalleled and continue to enthrall people for generations to come