Countries accepting PTE
October 2, 2020

Posted by:

elanwp

Category:

English Blogs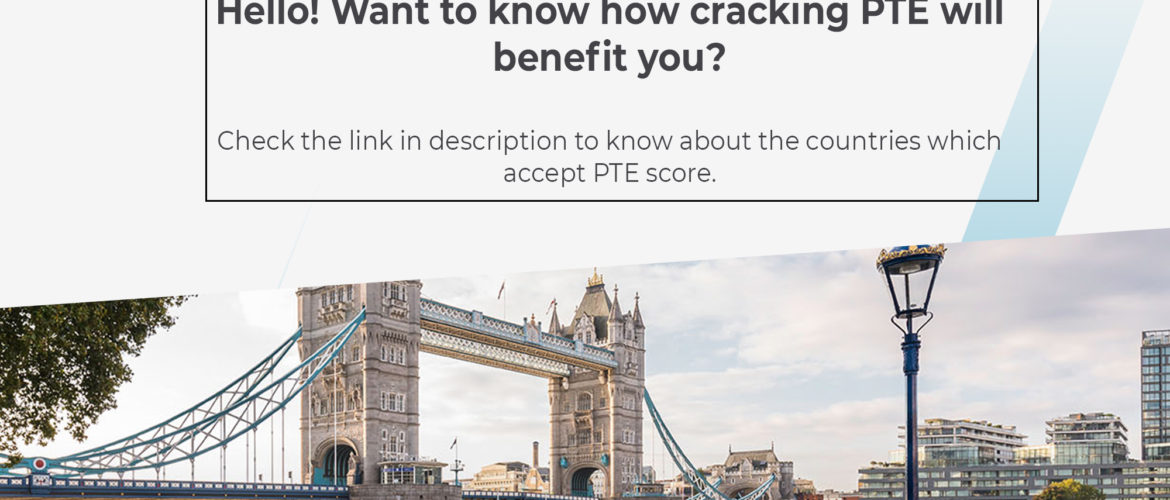 PTE
PTE also known as Pearson's tests of English. The PTE is a computer-based examination. The examinations target students who are more comfortable working with computers. People who choose to take the PTE examination carry the advantage of being analytically and logically inclined. These strengths give them the upper hand of working more efficiently and ensuring that they are doing their best. We believe that this quality is within everyone. We will do our best to bring out their talents and capabilities. The examination is well renowned all around the world. As well as being taken priority to several government embassies when applying abroad.
Why is this course for you?
This course is a milestone in your life. This is the exact position where your future will be determined. PTE has tested several students all around the world. This examination is done with diligence, accuracy and confidentiality. Their process is extremely systematic. The advantages of the certification of this examination is beyond imaginable. This test has guided several to a successful future.
Why is Elan Academy right for you?
In this course Elan Academy is not only ensuring the right guidance but also to be able to bring out the strengths that can be hidden. In this course we will test you. This test isn't just for an examination that is set on a specific date in an examination hall. This examination is to test your capabilities. It is to push yourself to break beyond your barriers and be able to see what you're capable of. So, untangle your wings and let this course guide into a bigger and brighter future.
After taking your PTE examination, it's not just career options that open up, Its also countries. The PTE examination is recognized by several countries in Europe and the western parts of Asia. This examination allows your universities, jobs and everyone to realize that you are able to put yourself through a basic test and your foundation is strong. To support this here are a few career options that will allow you to come out with flying colours.
Countries that accept PTE;
1. USA
In the USA having the right amount of points can allow you to apply to any university that you wish to. You could also have an upper hand when applying for a visa.
The United States of America is a growing country. The opportunities in such a bustling town have been expanding day by day. The US is known for their culture and sportsmanship. There are many football and soccer teams which are famous for their talents. It is a very career driven country. There are many holidays which brings everyone together. Every year almost 25% of new jobs are introduced into various industries.
2. Australia
The PTE examination will open your door to the immigration visa stamps. These opportunities lead from this examination will let you have a strong and successful way forward. Australia is known for their urbanised areas. There are several smaller islands where locals and tourists take the opportunity to build something of their own. They also have several opportunities in metropolitan areas such as Sydney, Melbourne, Brisbane and Adelaide. Opportunities are endless in a place such as Australia.
3. Canada
Canada is now accepting PTE scores for any kind of enrolment in educational sectors. A beautiful country filled with culture and diversity. Canada is one of the biggest and most travelled places when looking into further education. Canada is a bustling place where you could not just stay in one place and have to search in that direction. There is more and more to discover. One of the biggest reasons people love to live in Canada because it's not just work and career orientated. There are several family activities, voluntary work and so much more.
4. UK
The UK is one of the biggest sectors who accept the PTE examinations. The United Kingdom is a place of elegance and power. The opportunities are blooming every day. Most of the jobs are situated around business and medicine. One of the most common jobs are the main educational sectors. The laws provide everyone with equal rights and opportunities.